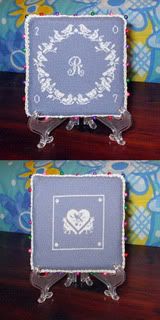 The quaker's exchange theme is WINTER for this go round and we will be using a combination of Blue and White for our designs. The Quaker design doesn't have to relate to Winter, but we must use the Winter colors of Blue and White.
The design I stitched is a small portion taken from Danielle Gouriou Curie design titled 'THE TREE WITH THE BIRDS'. It is stitched one over one on a jobelan 28 count denium blue fabric. I personalized this pinkeep by sewing Renee's initial and the year she received this pinkeep. Multiple coloured pins are used as I am not able to find blue ones.
As usual I forgotten to snap a photo of it before I sent it out. Renee is so kind to send me her photo shot when I asked her for one ;-P.