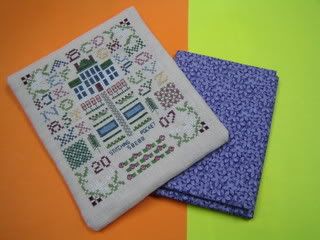 I am thrilled to receive this beautiful English Garden Pocket and a purple fabric from
Judith
yesterday. I did not expect to receive the package so early. It's truly is a big surprise as I have just sent out mine on the very same day. My partner will probably receive the package within 5 days. I hope...:D (fingers crossed lol).
This is the first time I see different type of stitches sewn other than crosses. It even has small tiny beads on to it. And take a closer look at the pink and white flowers. (Click on the pic.) See how delicately she sewn it to perfection.
Thank you Judith. I will treasure it always. It makes me wanna find out more about this designer 'The Drawn Thread'. So it's google time ;D....